Illinois Road Map
---
The scalable Illinois map on this page shows the state's major roads and highways as well as its counties and cities, including Springfield, the capital city, and Chicago, the most populous city.
Original Brick Pavement on Historic Route 66 in Illinois
Illinois Map Navigation
To display the map in full-screen mode, click or touch the full screen button. To zoom in on the Illinois state road map, click or touch the plus (+) button; to zoom out, click or touch the minus (-) button. To scroll or pan the zoomed-in map, either (1) use the scroll bars or (2) simply swipe or drag the map in any direction. (The scrolling or panning method you use will depend on your device and browser capabilities.) At any time, you can display the entire Illinois road map in a new window or print this page, including the visible portion of the map.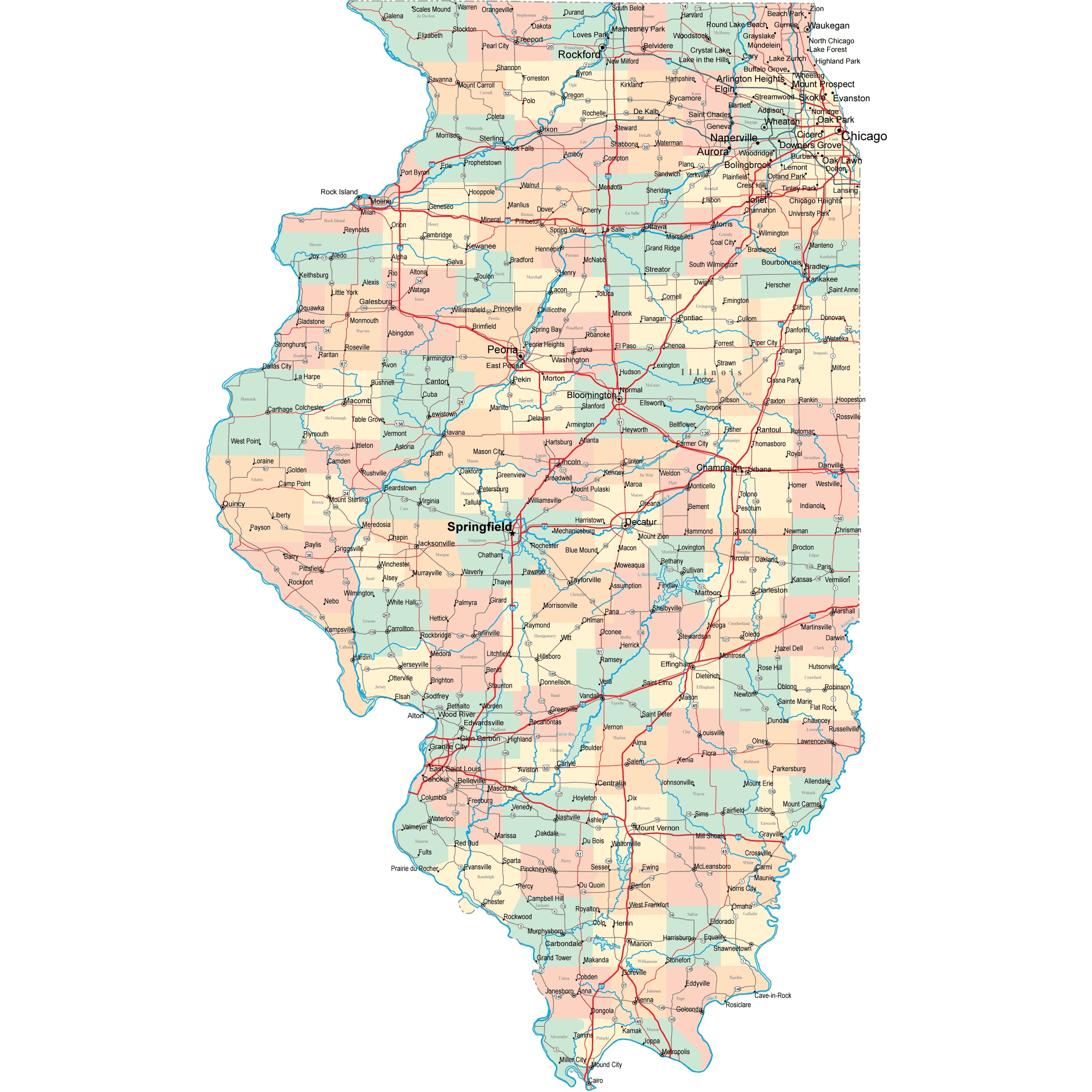 The following Map Legend and Scale of Miles apply to the road map on this page, at its largest displayed scale.
Illinois Map Legend
Illinois Map Scale Of Miles
Illinois Interstate Highways
Illinois's Interstate Highways connect its major cities and facilitate travel between Illinois and its neighboring states. I-39 links I-90 near Rockford in northern Illinois with I-55 and I-74 in central Illinois. I-55 extends southwest from Chicago toward Saint Louis, and I-57 extends from Chicago to the south. I-64 passes through southern Illinois between the Indiana border and the Missouri border at Saint Louis. I-70 crosses south central Illinois from east to west; I-74 traverses north central Illinois; and I-80 crosses northern Illinois from east to west, passing through the Chicago metro area. I-88 (a toll road) extends from Chicago to the west. I-90 enters Illinois at the Wisconsin border, passes through Chicago, and leaves Illinois at the Indiana border. In Illinois, I-94 generally skirts the Lake Michigan shoreline, although the highway runs a bit inland to serve the south side of Chicago.
Illinois's auxiliary Interstate Highways serve more localized areas such as metropolitan Chicago and Peoria.
I-155 connects I-55 near Lincoln with I-74 near Peoria.
I-180 connects I-80 near Princeton with the Illinois River region north of Peoria.
I-190 connects Chicago O'Hare International Airport with I-90 northwest of Chicago.
I-255 forms the eastern side of the highway loop around Saint Louis, providing access to East Saint Louis and adjoining areas.
I-280 skirts southern Moline and Rock Island, providing an alternate route to I-80 in western Illinois.
I-290 runs west from downtown Chicago, then northwest from I-294 to its terminus at I-90.
I-294 is a toll road that loops through the inner Chicago suburbs.
I-355 is an outer loop toll road that runs through outlying Chicago suburbs.
I-474 provides an alternate route to I-74, through Bartonville and the southwestern outskirts of Peoria.
Illinois Scenic Routes
Meandering through southern Illinois, the Shawnee Hills Scenic Byway passes through picturesque farmlands and breathtaking wilderness. Traveling south from Harrisburg to Herod, visitors will encounter the Shawnee National Forest and an odd formation of sandstone rocks known as Garden of the Gods. Farther south lie Cave-in-Rock State Park, Elizabethtown, and the Illinois Iron Furnace, as well as the town of Golconda, which boasts a rich history of commerce along the Ohio River. More information about scenic roads in Illinois is available on this Illinois Byways site.
Illinois Road Travel Resources
For more information about Illinois's roads and transportation infrastructure, visit the Illinois Department of Transportation website. For Illinois road traffic conditions, visit the Federal Highway Administration's Illinois Traffic Information page.
---
Copyright © 2005-2023 State-Maps.org. All rights reserved.
Illinois-Map.org is a State Maps reference source.

Illinois Road Map
Illinois Travel Map - IL Highway Map